Five Secrets Debt Collectors Won't Tell You!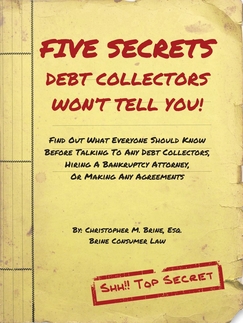 Getting hounded by debt collectors can be scary and confusing. But there is a path out. Unfortunately, that path out is often lined with vultures, debt collectors, and pushy salesman trying to make a buck off you.
That's where Brine Consumer Law comes in - we are the only law firm in Worcester that exclusively handles consumer debt issues in all aspects: bankruptcy, debt defense, and debt collection violations.
Debt collectors (and even some bankruptcy attorneys) won't tell you this stuff because they would lose money if they did. Of course, we don't have that problem because we accept all types of debt cases.
What's Inside?
In this free report, you will find out what everyone should know before talking to any debt collectors, hiring a bankruptcy attorney, or making any agreements.
Attorney Brine will give you:
The top five secrets that debt collectors (and even some bankrutpcy attorneys) won't tell you

Answers to many frequently asked questions, such as:

What are the benefits and negatives of filing bankruptcy?

Can my bankruptcy case be rejected?

Will I lose my property?

Who will know I filed bankruptcy?

Will my credit be ruined?

What defenses could I have to a debt collection lawsuit?

How do I file an answer to a debt collection lawsuit?

What types of debt collection are illegal?

Free sample letters and documents that you can use on your own
How to Download
To receive your free electronic copy of Five Secrets Debt Collectors Won't Tell You, all you need to do is enter your first name and email address below. You will then receive an email with the free report.
There's no obligation to do anything else - downloading this report doesn't create an attorney/client relationship, and we (of course) won't sell or trade your information to any third parties.